Doing an arty photoshoot with a snortlepig is difficult. The pig is very proud of her new dress - she wore it to church on Sunday and got lots of "Awww, Cinderella!" comments, which was unfortunate - and today she wore it to the supermarket to general acclaim, so much so that after passing one employee who was stacking shelves and gave us a jaded glance, the pig said in a shocked voice "That lady didn't talk about my dress!"
Nevertheless, getting her to eat an apple and play dead wasn't an easy task. This is the best I got…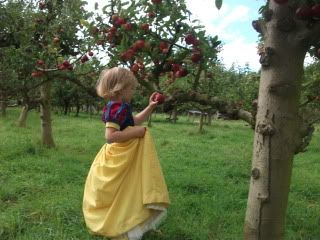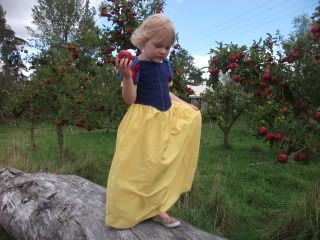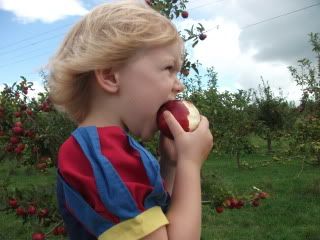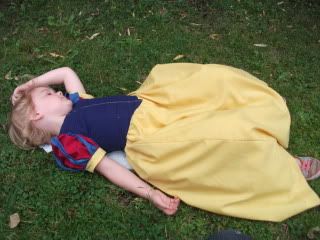 And by request of several of my most frothing fans, here is The Cake in all its blurry glory. It looked better in real life. I think.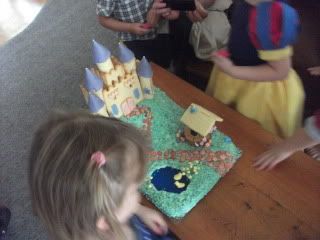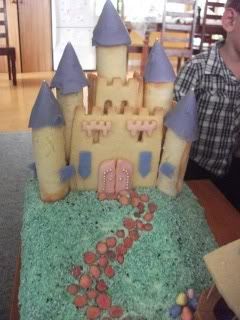 Banana cake with cream cheese frosting and green coconut; the pebbles were tiny sugar cookies coated in pink sugar; caramel fudge for the wishing well and to shore up the inside of the castle, which was lemon sugar cookies, as was the wishing well roof. The round towers were a funny, meringuey biscuit recipe wrapped around the handle of a whisk; topped with coloured white chocolate cones. The flags, pennants, mushrooms, flowers, wishing well birdie and ducks were fondant - I made fondant lily pads too, but I put them on the jelly pond the day before the party and they dissolved and had to be blotted off the surface of the pond with a paper towel, which was nerve-wracking. I should have left them, really; it made pretty realistic-looking pondscum.The whole edifice weighed about as much as a pygmy hippo and took up two-thirds of the fridge.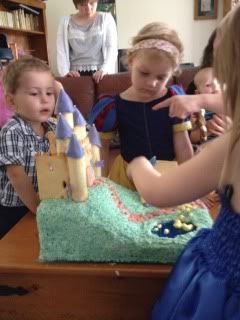 I'm pretty sure the pig liked it better than this photo implies.